Event Information
Location
Sociedade Thalia
338 Rua Comendador Araújo
Centro, PR 80420-000
Brazil
About this event
Description
After four succesful editions, the Rotex International Convention lands in the Americas for it's 5th edition in Brazil. This is the biannual chance that hundreds of rotex members have to gather and share their experiences in empowering exchange students from the moment they decide to participate untill moving on to the next steps in their lives.
This edition will take place in the southern brazilian city of Curitiba, starting in the 13th of august of 2020 and ending on the 16th, followed by a 8-day trip. Curitiba is the capital of the state of Paraná and home to Rotex 4730, an Alumni Association founded in 2008.
Youth Exchange has existed since 1929 and without a doubt, Rotary Youth Exchange has played a significant role in the life of the alumni and in for the development of Rotary International. Rotary Youth Exchange Program Alumni are a fundamental part of Rotary, which understand it deeply and share the same spirit, in participating, helping, and hosting Youth Exchange Program all over the world, helping for the development of the society as a whole.
Therefore, we are looking forward to welcome all the Youth Exchange Program Alumni and Rotarians to the 5th Rotex International Convention in Curitiba, Brazil. There, we will learn all about the alumni association also known as "Rotex" and how to make this big network even more connected. Whether in a plenary or a breakout session, enjoying the International Evening and Gala dinner, or exploring the beauties of Brazil during the post-trip, you'll meet people just like you from every corner of the world, far-reaching excellence.
Schedule
Day 1
Registration
Opening
International Evening
Day 2
Opening
Plenary Sessions
Workshops
Gala Dinner
Day 3
Plenary Sessions
Workshops
Day 4
Closing Ceremony
Election for the next Convention 2022
Election for the next Rotex International Board
Day 5 - 12
Post trip
Ready to explore a little bit of our huge Brazil? Our post trip will definitely make you wish you won't leave it!
In this Tour, we have selected two of the biggest south american cities: São Paulo and Rio de Janeiro. There you will explore all their greatness, visit one of the wonders of the world, Christ the Redeemer Statue and, of course, enjoy the impressive nightlife of these cities. Discover the aromas and delicious tastes of the brazilian food, which the inbounds take in their memories for ever after their exchange year here. Don't forget your swimming clothes: we won't let you leave before enjoying some of the most famous beaches of the world in Rio de Janeiro!
On the way back to Curitiba, participants can be dropped of at Guarulhos Airport (GRU).
● August 17-24th
Tickets
The tickets are divided in 4 categories:
1) Convention Only
Includes events, participant kit and meals during the convention.
2) Convention + Hotel
Includes accomodation in a hotel, events, participant kit and meals during the convention.
3) Convention + Post Trip
Includes the package Convention Only and the post trip with accomodation, tickets, city tours and full experience of the Brazilian culture (this means samba, brazilian funk, delicious barbecue and much more). Most of the meals are also included, but you'll also have the opoortunity to explore it by yourself.
4) Convention + Hotel + Post Trip
Includes the package 3 and accomodation in a hotel during the Convention.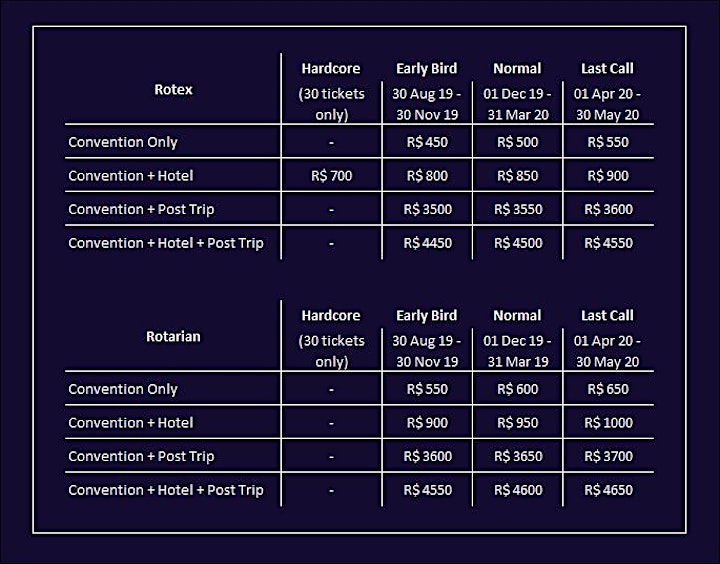 FAQ
Who can attend the 5th Rotex International Convention?
We invite all of the Rotary Youth Exchange Alumni and Rotarians. As long as you are alumni from Rotary Youth Exchange Program or a Rotarian, you are more then welcome to participate.
What is included in the Post Trip?
Transportation in double decker buses, hotels with breakfast and pools, city tours in São Paulo, city tours in Rio de Janeiro, Sugar Loaf tickets, Christ The Redeemer train ticket, Copacabana Fort entrance, Museum of Tomorrow entrance, Maracanã Soccer Stadium entrance and four dinners, including the famous brazilian "churrasco" (barbecue) and closing party with brazilian funk and samba.
What are my transportation/parking options for getting to and from the event?
The event will take place at Sociedade Thalia (Rua Comendador Araújo, 338 - Centro, Curitiba - PR, 80420-000). There are many ways of getting there from the airport:
Shuttle (https://www.aeroportoexecutivo.com.br/itinerarios/)
Public transportation (You can check the bus lines on Google Maps)
Transportation apps (Uber, 99 POP, InDriver)
Taxi
The hotels are located just 10 minutes walking from the Convention venue, so during the event, use your feet, breathe the fresh air of the city and enjoy your walk through one of the most beautiful streets of Curitiba!
What should I bring into the event?
Please remember, our Rotary Blazer belongs to our Exchange life. Since this is a Rotex International event, you DON'T need your blazer. We have an International Evening, please bring your countries' traditional clothes, foods, drinks, flags or anything that represents your country of origin.
Please keep in mind that Curitiba is a cold city, so don't forget to bring warm clothes. Also warm weather clothes will be useful, as Rio de Janeiro is included in the post-trip.
What is the refund policy?
If a registrant is unable to attend an event for any reason, they may substitute with someone else before April 30 2020 by arrangement with the registrar. All ticket except hardcore ticket can be both refunded and transferred before April 30 2020. The hardcore ticket can only be transferred. The following refund arrangements apply:
■Aug 30 2019 - Nov 30 2019 : 100%
■Dec 1 2019 - Apr 30 2020: 50%
■We do not accept any refund application after May 1 2020.
Note: There would be 10% of fee contributes to administration costs incurred.
How can I contact the organizer with any questions?
You can reach us using our 5th Rotex International Convention Facebook page, Instagram (@rotexcon2020), or write to rotexcon2020@gmail.com



Interested in being a sponsor?
Reach us on rotexcon2020@gmail.com for further information.
SPONSORS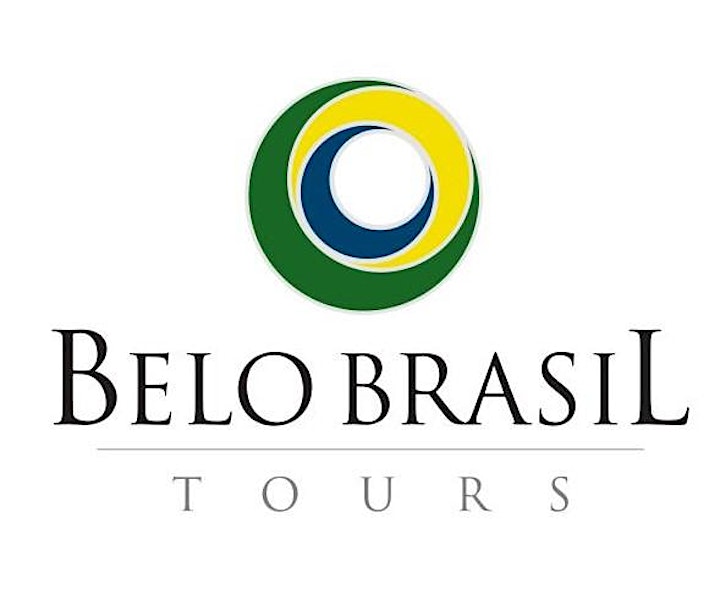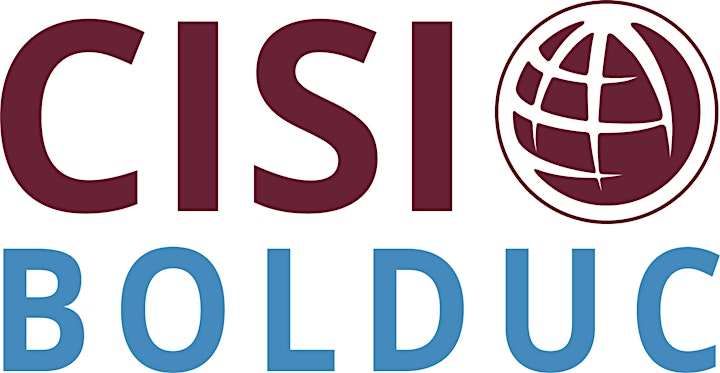 Date and time
Location
Sociedade Thalia
338 Rua Comendador Araújo
Centro, PR 80420-000
Brazil