Curso online para bailarinos e dançarinos, com ou sem experiência, que queiram aprender acrobacias voltadas para dança.
About this event
O módulo 1 é composto de três aulas de 1 hora e 30 minutos, ministradas nos dias 15, 16 e 17 de abril em formato online , onde o aluno poderá aprender, em casa, técnicas básicas para iniciar o aprendizado de movimentações acrobáticas que incrementam o repertório motor e coreográfico do bailarino.
O curso é ministrado em tempo real pelo professor Tiago Barbosa, renomado bailarino e artista circense de carreira internacional.
Conheça mais do trabalho de Tiago Barbosa no Instagram: @thiago_cirque
Siga também @ceartestudio para mais informações sobre nossos cursos e serviços!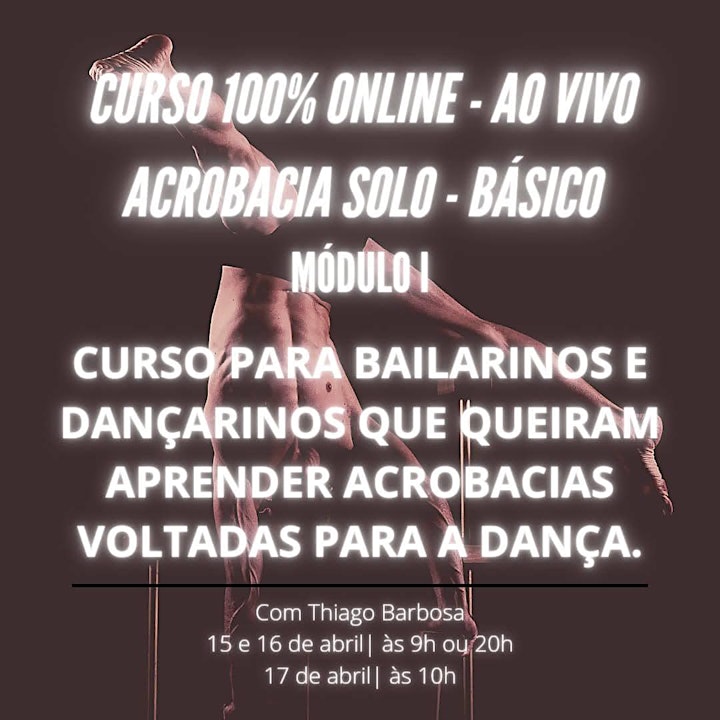 Date and time
Location
Refund policy
Organizer of Acrobacia Solo - Basic Módulo 1
A CEArte Studio nasceu em 2003 e desde então se propõe a oferecer a melhor experiência em diversas modalidades de dança e treinamento físico. 
Nosso estúdio tem profissionais qualificados em diversas modalidaedes de dança e personal trainers especializados em treinamento individualizado, tanto para o público que busca melhorar sua qualidade de vida quanto para bailarinos que desejam melhorar sua performance.
Na CEArte, todo corpo que ama se movimentar, seja dançando ou se exercitando, terá a chance de vivenciar a sua melhor versão, pois para nós todo corpo pode e deve ser livre para se expressar da maneira que mais gosta!
Nossa missão é mostrar que a dança e a atividade física são para todos! 
Venha nos conhecer e experimentar a sensação de liberdade e superação que o movimento pode proporcionar! Para quem nunca dançou, para quem já é ou pretende ser profissional da dança ou para quem apenas quer colocar atividade física definitivamente na rotina, aqui é o lugar!
Nossos cursos e serviços:
Ballet Clássico (Livre e Formação)
Jazz Dance
Jazz Funk
Hip Hop
Preparação Física (Bailarinos/Atletas)
Treinamento Personalizado (Personal Trainer)
 Venha nos fazer uma visita e acesse nosso site e redes sociais para conhecer melhor nosso trabalho!
Instagram: @ceartestudio
Whatsapp: (11) 99406-5462
Esperamos por você!