Building a True Distributed Autonomous Organization Framework w/ Blockchain
The principles of a Prosperous Organizations and the PROSPERA experience inovating labor, business models and organizations.
About this event
Why This Workshop
Blockchain, Cryptoassets and smart contracts are considered the cornerstone for a new organizational model known as DAO - Distributed Autonomous Organization, based on horizontal hierarchies, governance by consensus, self-assigned leadership and commons.
This workshop proposes a model that has been prototyped since 2016 and has involved more than 500 people, generating products and services such as books, courses, consulting, events, and was the first in the world that ICO distributed revenues to its stakeholders.
What we will learn
New foundations of organizations: the abundance paradigm; the distributed format; combining survival with evolution to generate prosperity; and the cycle of materialization of products and services.
Basic concepts of organization: Nodes; Commons and Objects. And the principles of Prosperous Organizations: horizontal hierarchy; governance; leadership; decision-making; planning; and how Blockchain allows for consensus building and new, more inclusive and exponential processes.
Practice converting industrial, centralized and vertical Organizations into Distributed, horizontal and innovative autonomous organizations.
Need more Information
email us: contato@bribrasil.com.br
whatsapp: +55 11 93101 4040
Our instructor
Carl Amorim is a human being, from the planet Earth and does what he can with what he has access. Father of two beautiful daughters, husband of a wonderful wife and caregiver of a cute dog. Gemini, who believes that nobody is defined by a job or title and that we all can play different personal and professional roles for a prosperous and purposeful life, has dedicated his life building organizations that offer this to their stakeholders.
Co-founder of Prospera and BRI Brasil, the first two Distributed Autonomous Organizations in Brazil, is launching an accelerator for DAOs to create a new life model, based on abundance, inclusion, trust and autonomy.
He thinks this whole innovation thing is really cool, but he really wants to produce and sell artisanal food and organize events based on sharing meals.
What our atendees have to say
"Very few times we can participate in an open and colective experience where what we absorve is much more than knowledge. This is the case. A life change event, with so deep and wide change of perception lenses, that we can't describe. And, as life change acts, you wil KNOW you've changed, but never why, how or from which stage you were before. To anyone working or desiring work with the new distributed organizations, cooperative business or colective networks of business, it's a must to do step" Courtnay Guimarães, Chief Scientist, BRQ Digital Services - São Paulo, SP
"I had the opportunity to meet Carl in one of his lectures on Blockchain and DAO's in 2017 that blew my mind, at that time I was already an entrepreneur and could envision the gigantic potential that Blockchain and the crypto economy would enable, as new business models more horizontal, transparent, safe and distributed. I was positively impressed by the vanguardism of Carl, who was already developing a DAO (Prospera) and how that revolutionary theory was already being successfully applied in practice, since then I have plunged headlong into the world of Crypto Economics that I am today, I am grateful and strongly recommend Carl Amorim's lectures and workshops that helped me become co-founder of an Edutech that uses blockchain in addition to other technologies of the 4.0 revolution. " Guilherme Zancope, CTO, Future Campus - Marilia, SP
"I read about DAOs initiatives in Brazil and one of its precursors would have a workshop. I was happy was to discover that it is possible to work in an autonomous and distributed way, freeing us from bureaucracy. The course opened my mind to new possibilities like ne tworking. I reco mmend!" Fabio Bahia - Salvador, BA
"I found the learning of the lecturer's practical exposures extremely interesting. With this, the vision of how Blockchain works and the PROSPERA experience, it became much easier to assimilate in wich cases we can apply the technologies." Roberto Waquil, business owner - São Paulo, SP
"The course, besides providing the necessary bases to get the knowledge of blockchain technology, ensures interaction with participants and instructors, so that knowledge is built collaboratively. Carl Amorim combines his technical knowledge, business perception and sensitivity to human issues to convey the fundamentals and blockchain technology use cases within the scope of autonomous distributed organizations. The course gives attendees a new view on the technology and how to work in society". André Guskow Cardoso, Lawyer - Curitiba, PR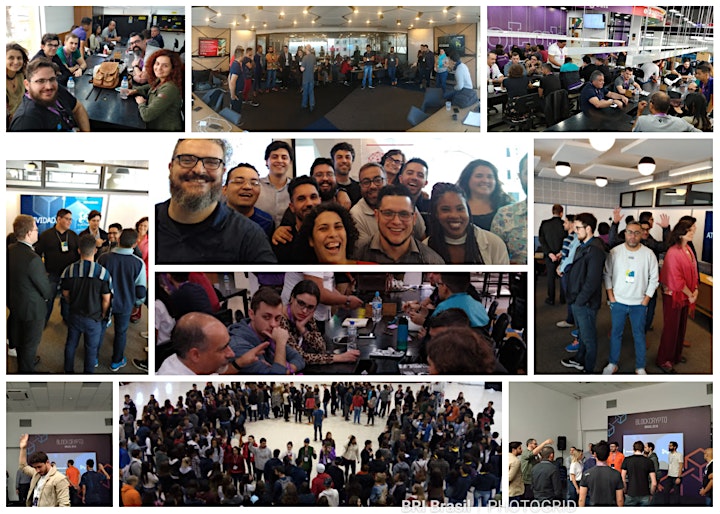 Organizer of Building a True Distributed Autonomous Organization Framework w/ Blockchain
What is the HUB
It is an environment of innovation, interaction, learning, knowledge, co-creation and development of solutions in Blockchain for companies and government. In this environment, online and face-to-face activities are developed that articulate demand from those who need to adopt Blockchain with technology companies, startups, programmers and investors in order to develop solutions and generate a culture of innovation and technology.
How it is organized
Comprised of a 24x7 online platform for interaction, learning and knowledge, at our partner's physical infrastructure (universities, municipalities, class associations, etc.) for holding events (lectures, meetups, meetings) and face-to-face activities (classes, workshops, co-creation) , study groups).
The activities
Inspiration - designed to create awareness, curiosity and recognition of the importance of Blockchain and how to take your first steps towards its use
Learning - designed to offer the content and learning necessary for decision making and development of processes and solutions
Ideation and Co-creation - designed to design the processes to be programmed such as applications, systems, APIs etc.
Prototyping - designed to program the processes designed in the co-creation activities to form new startups, generate a culture of local innovation
The Cycles
The activities will be organized in cycles for, at the end of each one, a new one with more participants, more resources, more people and the lessons learned from previous cycles, and more solutions will be presented in an exponential growth that Singularity University calls the Law of Accelerated Returns .
HUB launch
It will be officially launched during Toronto Blockchain Week in a Party at The Loose Moose Bar.
Launch schedule
After the Toronto events, the online platform will be launched and the activities of inspiration and opening for members of the hub will start, hiring by companies and governments and membership of individuals.
Starting from the 6th week, online training activities begin with the Coursera and Insead program and activities located in the infrastructure of the partners and BRI Brasil in Curitiba. These activities last for 4 months and new classes are started every 90 days.
The activities of co-creating processes and applications, start 3 months after the start of each class of the online program, coinciding with the practical module of project development.
The conclusion of the first group, six months after the start of the project, marks the beginning of prototyping and solution development activities, with the entry of new participants every 90 days to propose demands and integrate into the environment.
In a second phase, the Hub will also invite companies and startups from Canada, Portugal, Spain and Latin America to present demands or participate in the development of solutions, creating corridors of knowledge, research and business around Blockchain and adjacent technologies such as Intelligence Artificial and Internet of Things (IOT).