This lecture is part of the Chair Franco-brésilienne des Universites de l'Etat de São Paulo "Digitality and Management"
About this event
"From Sociomateriality to Metaphysics: Issues of Substance, Flesh, (co)Ingredients, Images and Light"
Sociomateriality is now a major lens in the study of digital technologies and digitality and their relationships with organizing. Two clans would be at stake today: agential realism and critical realism. After presenting them and stressing their limitations, we will explore what appears as more relevant ways of discussing materiality and ontological issues in MOS. Five metaphysics will be detailed: substance, flesh, (co)ingredients, images, and light. Aristotle, Spinoza, and Descartes opened the way to different approaches of substances and entities. Merleau-Ponty shedded light on a sensible becoming, a process of enfleshment. Alexander and Whitehead offered a metaphysics of actual entities, nexus, eternal objects, and (co)ingredients. Bergson elaborated a vitalist metaphysics of lights and images extended by Deleuze. Implications are drawn for the study of digitality in MOS.
Who is doing the lecture?
Professor François-Xavier de Vaujany is a Full professor (Professeur des Universités) of Management & Organization Studies at Dauphine Center for Management Research (DRM), Université Paris-Dauphine-PSL.
Who is hosting the lecture?
Professor André Carlos Busanelli de Aquino is a Full professor at University of Sao Paulo.
To attend this third lecture, it is not necessary to have attended the previous ones.
You will receive a link to access a reading/watching list to guide you on the subject of the lecture.
This Chair is an initiative from: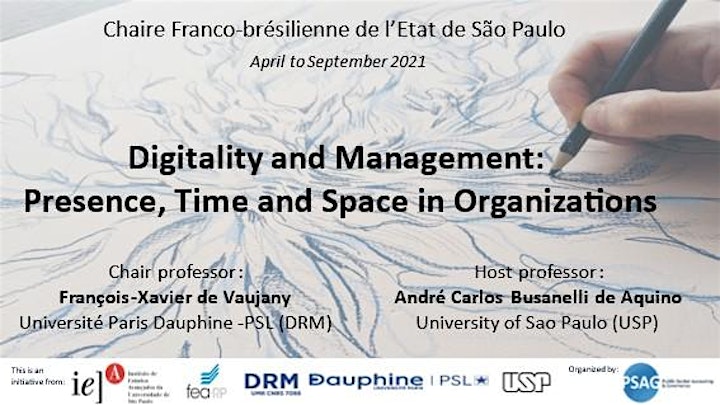 Organizer of Chaire Franco-Brésilienne des Universites de L-Etat de São Paulo