Connectory Global Talks: How the Innovation Ecossystems are reacting to the crisis mode?
About this event
Tough times come and go, and to adapt ourselves to the new reality is a must. Routine and habits have been drastically changed, and while some known paths have been closed caused an economic impact, new ones are emerging with new perspectives, trends, and of course new opportunities.
Wondering how the innovation ecosystems are dealing with COVID crisis and tackling this challenge in a local perspective?
Join us in this global online event and let's check it out together!
In this event you will get the chance to hear examples from representatives of six local ecosystems:
Chicago (USA), Guadalajara (Mexico), Curitiba (Brazil), Stuttgart (Germany), London (UK) and Shangai (China).
Our speakers, from each Connectory location will share some stories that illustrate how their local innovation ecosystem and communities are reacting to the crisis.
Speakers:
Fernando Matsunaga: Moderator, Innovation manager, Curitiba Connectory.
Marco Knabben: Community Manager, Curitiba Connectory.
Fermin Fernandez: Lead & Innovation Director, Chicago Connectory.
Sue Susenburger: Innovation Strategy Partnerships, Chicago Connectory.
Alberto Ibarraran: Lead & Innovation Director, Guadalajara Connectory.
Andrew He: Co-Founder of the Shanghai Connectory.
Steffen Rueck: Co-Lead Stuttgart Connectory.
Walter Daves: Head of London Connectory.
Rishi Chowdhury: Co-Founder of Incube.
Agenda:
5' –  Welcome
70' – News Around the Globe: status, challenges and actions from Connectory locations and their local community in these times
15' – Questions from the audience
Please, pay attention to your timezone! Check the specific time for your location:
Chicago: 8 a.m. | Guadalajara: 8 a.m. | Curitiba: 10 a.m.
London: 2 p.m | Stuttgart: 3 p.m. | Shanghai: 9 p.m
Target audience:
Innovation communities, startups, and, of course, all curious and interested people!
For a better experience, we've got some hints:
- The link to watch this event will be sent to the e-mail you used for the registration.
- Before the event, check your internet connection to make sure you don't miss any moment.
- We would love to have your participation during our event. Make sure to write your questions down to don't forget it and ask it in the Q&A session.
If this is your first contact with Connectory, a global network of innovation spaces and communities by Bosch and local innovation hubs, you can know more about us here:
www.chicagoconnectory.com
www.guadalajaraconnectory.com
www.curitibaconnectory.com
www.londonconnectory.com
www.stuttgartconnectory.com
www.shanghaiconnectory.com
Come join us in our first Connectory Global Talks!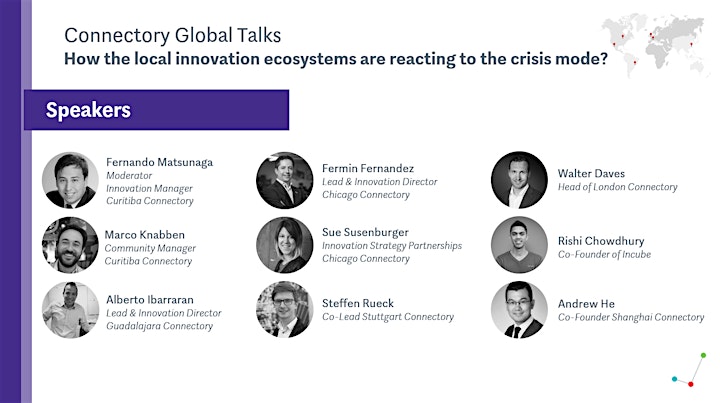 Organizer of Connectory Global Talks: Local innovation ecosystems reacting to the crisis