Falando a verdade: o impacto do falso storytelling na integridade da marca

Friday, May 24, 2019 from 10:00 AM to 11:30 AM (Brasilia Standard Time Brazil (Sao Paulo) Time)
Event Details
1) Apresentação
Storytelling é uma ferramenta de comunicação que está sendo utilizada cada vez mais pelas empresas para contar a sua história e evidenciar suas origens e valores de forma lúdica e emocional. Ocorre que as empresas, por vezes, exageram no apelo ao público deixando de observar limites legais e éticos, fazendo com que a ferramenta se torne prejudicial para a imagem da empresa. O profissional da comunicação precisa conhecer as consequências do mau uso desta ferramenta, tornando-se um aliado dos empreendedores, evitando assim prejuízos ou danos, compondo a melhor estratégia para as empresas.
2) Programação
- O que é storytelling; 
- Casos práticos de danos/prejuízos;
- Conhecimento sobre limites éticos e legais inerentes à produção de storytelling;
3) Carga horária
1h30 
4) Ministrante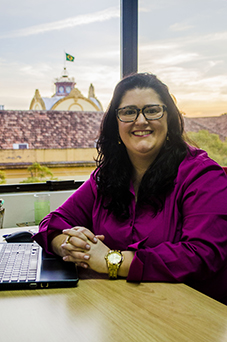 Adriana Larruscahim Hamilton Ilha, é diretora do Estúdio Jurídico e sócia-fundadora e técnica responsável do Estúdio Marcas, advogada com larga experiência no atendimento de pessoas físicas e jurídicas. Atua nas áreas do direito há mais de 12 anos, desenvolve palestras para estudantes universitários (UFRGS, PUCRS, FADERGS) e para o público empreendedor do SEBRAE, possui sólida formação acadêmica e larga experiência profissional, sempre com o intuito de fortalecer e de potencializar as oportunidades do mercado empresarial. Especialista em Direito da Propriedade Intelectual, com extensões em Direito Digital: Gestão do Risco Eletrônico, Direito da Tecnologia da Informação e Direito Eletrônico. Diretora do Estúdio Jurídico, sócia fundadora e técnica responsável do Estúdio Marcas.
Save This Event
When & Where

Escola de Comunicação, Artes e Design - Famecos
Avenida Ipiranga, 6681 - prédio 7 - auditório
Partenon
Porto Alegre, RS 90619900
Brazil

Friday, May 24, 2019 from 10:00 AM to 11:30 AM (Brasilia Standard Time Brazil (Sao Paulo) Time)
Add to my calendar
Organiser
O Projeto Identidade RP é uma iniciativa do curso de Relações Públicas da Escola de Comunicação, Artes e Design – Famecos/PUCRS que destaca a importância da profissão através de suas práticas e dos resultados alcançados para a sociedade. Para tanto, são planejadas atividades que buscam proporcionar diferentes experiências para os alunos na área de relações públicas e em temas complementares.