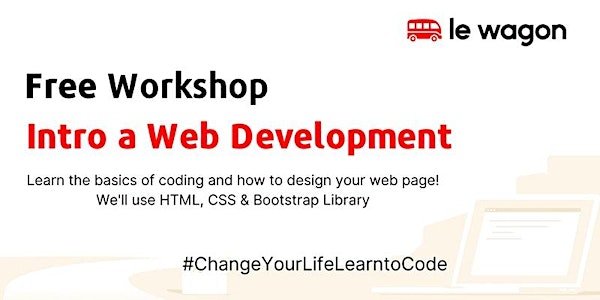 Free Workshop: Learn how to create a landing page (In person-Playa)
Event Information
Location
Anana Coliving
Anana Coliving, Playa del Carmen, México calle 16 %35 y 40 MZ 115 LT20 PCN GONZALO GUERRERO Playa del Carmen, ROO 77720 Mexico
Playa Del Carmen, ROO 77720
Mexico
About this event
Learn how to code and design your website in only 2 hours! A very satisfying workshop where students will code and design their own landing page using HTML, CSS and Bootstrap library. We will also cover lots of design pro-tips to find icons, fonts and colors.
What you will learn: - HTML / CSS core notions - Lots of graphical tips and tools (font awesome, Google Fonts, colors, etc.) - Introduce Bootstrap and its responsive grid system
This webinar will start with a 1-hour lecture to introduce the core concepts. You will then be onboarded on Le Wagon e-learning platform and access the slides, a sum-up of key notions as well as exercises to keep practicing after the workshop.
Pre-requisite: Google Chrome & Sublime Text.
Meeting point: Anana Coliving, Playa del Carmen, México
19:00hrs- 21:00hrs
Don't forget to bring your computer!
Date and time
Location
Anana Coliving
Anana Coliving, Playa del Carmen, México calle 16 %35 y 40 MZ 115 LT20 PCN GONZALO GUERRERO Playa del Carmen, ROO 77720 Mexico
Playa Del Carmen, ROO 77720
Mexico