IIP Talks | Which clinic for today? | Bárbara Guatimosim (BR) & Nicolas Tajan (JP)
About this event
* FR > Voir ci-dessous pour la version française
** PT > Ver abaixo para a versão português
​​IIP Talks is a cycle of free lectures promoted by the International Institute of Psychoanalysis, an invitation to all those interested in getting to know the professors of the IIP's formation, with a new class opening in September 2022.
The event is an opportunity to dive deeper into relevant issues for the psychoanalytical community. These are the themes of the next IIP Talks: "Which clinic for today?", "Pop culture and psychoanalysis" and "What is psychoanalysis from a Lacanian orientation?".
IIP Talks - June 4th | "Which clinic for today?" with Bárbara Guatimosim (BR) + Nicolas Tajan (JP)
Bárbara Guatimosim is a psychologist and psychoanalyst. Member of the Forum of the Lacanian Field BH, EPFCL – Brazil, published articles in several magazines and compilations on psychoanalysis. Master and Doctor in Literary Studies, research line: Literature and Psychoanalysis. Participates in initiatives and movements that have as a reference the Analytical Discourse and the ethics of difference.
Nicolas Tajan is a psychoanalyst and an associate professor at the graduate school of Human and Environmental studies at Kyoto University, Japan. He is a member of Le Pari de Lacan and the President of International Mental Health Professionals Japan. His last book entitled "Mental Health and Social Withdrawal in Contemporary Japan" is available open access.
Online lectures, 100% free, with simultaneous translation in English, French, Portuguese and Libras (Brazilian sign language).
☎️ For further information or doubts:
+55 35 9730-5281 (whatsapp) / info@iipsi.com.br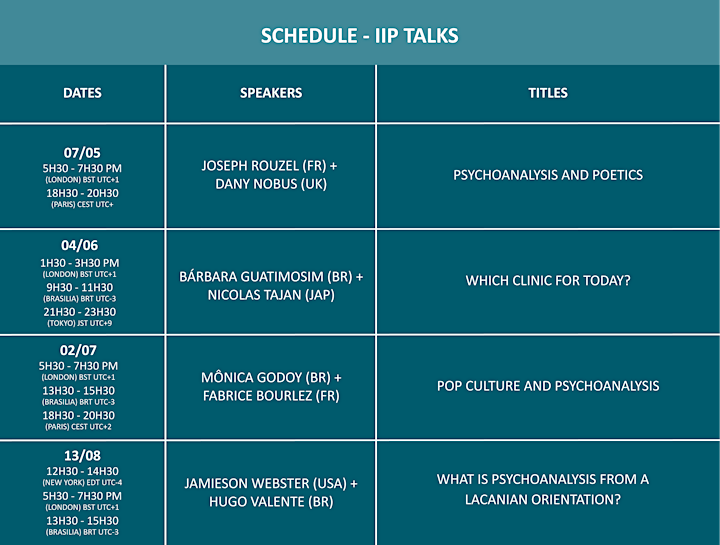 *FR
IIP Talks est un cycle de conférences gratuites organisées par l'Institut International de Psychanalyse. Toute personne intéressée par la psychanalyse est invitée. Les conférenciers, tous psychanalystes connus et reconnus, sont des enseignants de la formation de l'IIP dont la nouvelle promotion débutera en septembre 2022.
L'événement est l'occasion d'approfondir des questions cruciales pour la communauté psychanalytique. Voici les titres des prochains IIP Talks : « Pop Culture et psychanalyse » et « Qu'est - ce que la psychanalyse d'orientation lacanienne ? ».
IIP Talks du 04 juin « Quelle clinique pour aujourd'hui? » avec Bárbara Guatimosim (BR) + Nicolas Tajan (JP)
Bárbara Guatimosim est psychologue, psychanalyste. Membre de l'École des Forums du Champ Lacanien de Belo Horizonte, Brésil. Elle a publié plusieurs articles dans divers revues et collections de psychanalyse. Master et doctorat en études littéraires. Axe de recherche: littérature et psychanalyse. Participante à des initiatives et des mouvements qui ont comme référence le Discours Analytique et l'éthique de la différence.
Nicolas Tajan est psychanalyste et maître de conférences au département des études humaines et environnementales de l'université de Kyoto, au Japon. Il est membre du Pari de Lacan et président de l'association International Mental Health Professionals Japan. Son dernier livre intitulé " Mental Health and Social Withdrawal in Contemporary Japan " est disponible en accès libre .
Conférences en ligne 100% gratuites avec traduction simultanée en français, portugais, anglais et Libras (Langue des signes du Brésil)
☎️ Pour plus d'informations ou questions :
+55 35 9730-5281 (WhatsApp) / info@iipsi.com.br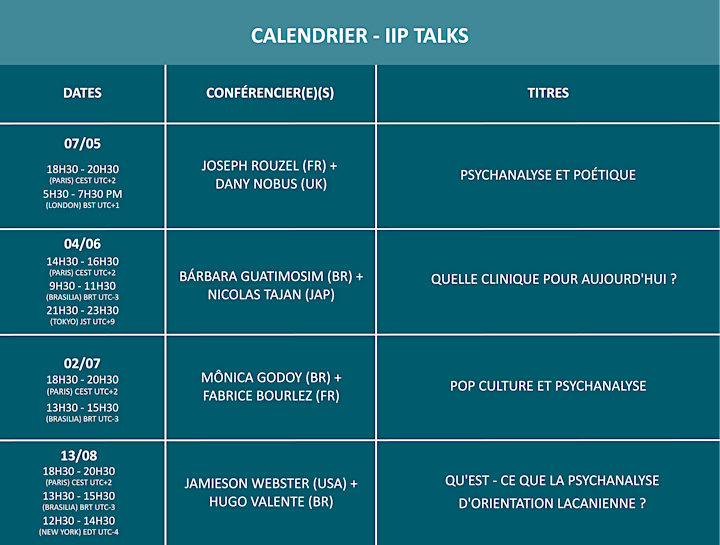 **PT
IIP Talks é um ciclo de palestras gratuitas promovido pelo Instituto Internacional de Psicanálise, um convite a qualquer pessoa com interesse em psicanálise e em conhecer os trabalhos dos professores da formação do IIP, que inicia sua nova turma em setembro de 2022.
O evento é uma oportunidade para se aprofundar em assuntos relevantes para a comunidade psicanalítica. Estes são os temas dos próximos IIP Talks: "Qual clínica para hoje?", "Cultura Pop e psicanálise" e "O que é a psicanálise de orientação lacaniana?".
Bárbara Guatimosim é psicóloga e psicanalista. Membro do Fórum do Campo Lacaniano BH, EPFCL – Brasil, artigos publicados em várias revistas e coletâneas de psicanálise. Mestre e Doutora em Estudos Literários, linha de pesquisa: Literatura e Psicanálise. Participante de iniciativas e movimentos que têm como referência o Discurso analítico e a ética da diferença.
Nicolas Tajan é psicanalista e professor associado à graduação da escola de Estudos humanos e ambientais na Universidade de Kioto, Japão. É membro do Le Pari de Lacan e presidente da International Mental Health Professionals Japan. Seu livro mais recente intitulado "Mental Health and Social Withdrawal in Contemporary Japan" está disponível em acesso livre:
Palestras online 100% gratuitas e com tradução simultânea em português, francês, inglês e Libras.
☎️ Para mais informações ou dúvidas:
+55 35 9730-5281 (whatsapp) / info@iipsi.com.br