In the second pandemic year NOUMEN ART fest and IMPROFEST joined efforts together in a share programme from both festivals and continents
About this Event
LINEUP
🇩🇪 Simone Weißenfels
🇧🇷 Felipe José
🇷🇺 Pasha Chuma, Oxana Grigoryeva
🇬🇪 Guram Machavariani
🇧🇷 Paulo Hartmann
🇷🇺 Dervish Taxi (Dmitry Peitsch & Jan Jamin)
🇧🇷 Wilson Sukorski
🇷🇺 Эдита-Изольда
🇧🇷 Marcos Campello
🇷🇺 Boo Boo & Alesia White Bird
🇧🇷 Trilhas Horrorosas
🇷🇺 Nameless & Alesia White Bird
🇧🇷 God Pussy
🇷🇺 8hz
🇧🇷 Filipe Giraknob
🇷🇺 Tone Gravity
🇧🇷 Edbrass Brasil
🇷🇺 Anna Mikhailova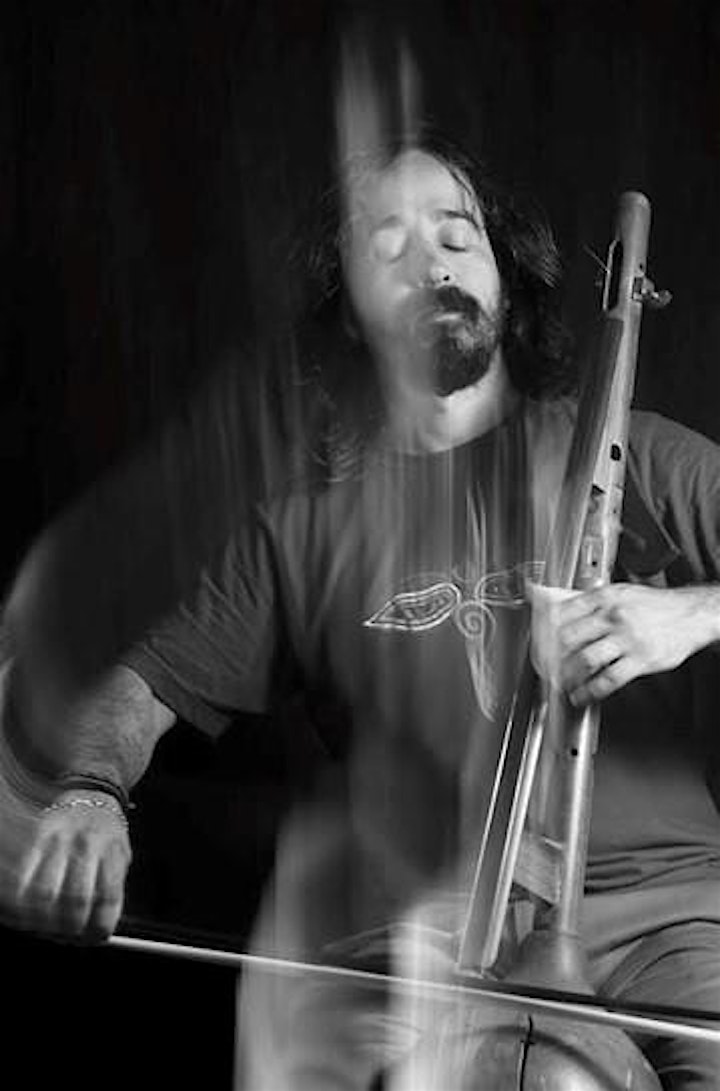 Felipe José
Graduated in Composition and Master in Analytical and Creative Processes at UFMG, he has already joined the Itiberê Orquestra Família and Grupo Ramo, and recorded on several discs of the Brazilian and Minas Gerais music scene. A multi-instrumentalist, he has already performed and given workshops in Brazil and in countries in the Americas (South and North), Europe and Asia. Since 2010 he has been dedicated to performing artistic residencies, including Canudos / Bahia, Belo Horizonte / Minas Gerais, Bhutan, France, United States, Indonesia and Colombia. He has already performed alongside big names in Brazilian music, such as Tom Zé, Hermeto Pascoal and Egberto Gismonti. He is currently a professor at the Federal University of Latin American Integration (UNILA).
Formado em Composição e Mestre em Processo Analíticos e Criativos pela UFMG, já integrou a Itiberê Orquestra Família e o Grupo Ramo, e gravou em diversos discos da cena musical mineira e brasileira. Multinstrumentista, já se apresentou e ministrou oficinas no Brasil e em países das Américas (Sul e Norte), Europa e Ásia. Desde 2010 se dedica a realizar residências artísticas, incluindo Canudos/Bahia, Belo Horizonte/Minas Gerais, Butão, França, Estados Unidos, Indonésia e Colômbia. Já se apresentou ao lado de grandes nomes da música brasileira, como Tom Zé, Hermeto Pascoal e Egberto Gismonti. Atualmente é professor da Universidade Federal da Integração Latino-Americana (UNILA).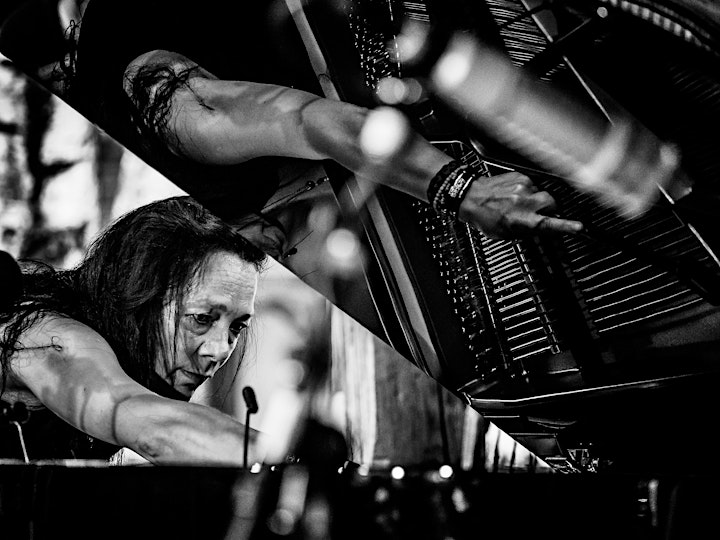 Simone Weißenfels
LF and WDR, interviews and recordings in USA, Germany, Taiwan, China and Bosnia-Herzegovina. After her ensemble multiboxx performed the International Festival in Nanjing 2004 in 2006 though 2008, she lead one of the first practical youth exchange projects of young Chinese and German musicians in Nanjing and Shanghai. This international ensemble performed the premiere of her composition "lullaby for K." (T. Brasch) in Nanjing for 10.000 people and in Leipzig within the scope of the International 'Bach-Fest' in 2008. Simone Weißenfels is teaching piano at the world-famous Thomanerchor and 'Neue Musik' in Leipzig
Dervish Taxi (Dmitry Peitsch & Jan Jamin)
Paulo Hartmann
Paulo Hartmann, instrumentalist, specializes in prepared guitar has been dedicated to the creation of loops in real time, as well as tele-performance presentations. Creator of the performance group Padiciço in the 90s, a member of Orchestra downloading, in 2012 he brought to Brazil the Strange Music Day of the North American musician Patrick Grant. The artist has already performed at biennials, national and international music and performance festivals in countries in Latin America and Europe. Since 2007 he is one of the organizers of the Improfest-International Festival of Improvisation and Sound Art. In its 2017 edition, together with Antonio Panda Gianfratti, Marco Scarassatti and Otomo Yoshihide recorded the album Psychogeography An improvisational derive, released by the NotTwo label from Poland.
Paulo Hartmann, instrumentista, é especializado em guitarra preparada vem se dedicando à criação de loops em tempo real, bem como apresentações de tele-performance. Criador do grupo performático Padiciço nos anos 90, membro da Orchestra Descarrego, em 2012 trouxe para o Brasil o Strange Music Day do músico norte americano Patrick Grant. O artista já se apresentou em bienais, festivais de música e performance nacionais e internacionais em países da América Latina e Europa. Desde 2007 é um dos organizadores do Improfest-Festival Internacional de Improvisação e Arte Sonora. Em sua edição de 2017, juntamente com Antonio Panda Gianfratti, Marco Scarassatti e Otomo Yoshihide gravou o álbum Psychogeography An improvisational derive, em lançamento pelo selo NotTwo da Polônia.
Pasha Chuma, Guram Machavariani, Oxana Grigoryeva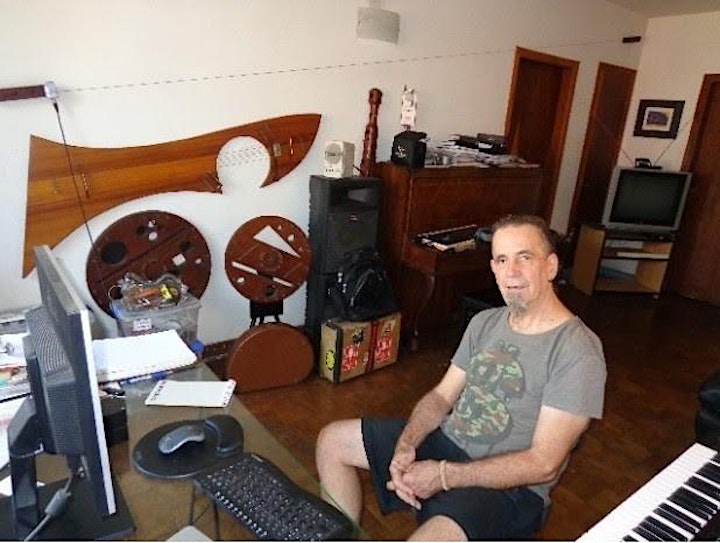 Wilson Sukorski
Wilson Sukorski is a composer, electronic musician, multimedia performer, creator / producer of musical content for radio / video / cinema, designer and builder of unusual musical instruments and researcher in digital audio. - Works intensively in various musical activities in Brazil and abroad. He composes for cinema, experimental videos, audio art installations, urban art, art and new media; besides performing as a musical performer in monoband concerts and performances, in Brazil and with a strong international career. Wilson Sukorski has been involved with music since he was six years old. He graduated in composition and conducting from the State University of São Paulo (UNESP). Among his professors and influences: Michel Phillippot, Conrado Silva, Oscar Bazan, Coriun Aharonian, Walter Smetak, Hans Joaquim Koellreutter, among others. He developed his career working on different projects and directions, ranging from musical performance to classical composition, from "media art" to automatic composition systems - using artificial intelligence techniques (87/89). He is one of the pioneers of electronic music, digital music and Brazilian multimedia, he was artistic director of several groups of free improvisation (oTaodoMinf / Jê / Orchestra of laptops) worked with experimental luthery, music and poetry, art and madness, electronic music live, sound installations, Public Art installations, concerts via streaming with participants from all over the world, in addition to chamber music, vocal and orchestral works
He performed at several festivals and events, both in Brazil and abroad, including: the Auditorium of the Louvre Museum, (Year of Brazil in France) in Paris, MaerzMusik Festival in Berlin, Cinamateque of Jerusalem in Israel, Audio Art Festival in Poland, Experimentaclub in Madrid, among many others. He worked as a researcher and / or artist in residence at the MIT / CAVS - Massachusetts Institute of Technology - Center for Advanced Visual Studies, NYU / MRL, New York University - Media Research Lab, in the Department Parallel Computing and Super Computers of the Polytechnic School of USP, among several others.Wilson Sukorski é compositor, músico eletrônico, performer multimídia, criador/produtor de conteúdos musicais para rádio/vídeo/cinema, designer e construtor de instrumentos musicais inusitados e pesquisador em áudio digital. – Trabalha intensamente em várias atividades musicais no Brasil e no exterior. Compõe para cinema, vídeos experimentais, instalações de áudio arte, arte urbana, arte e novas mídias; além de se apresentar como performer musical em shows e performances monoband, no Brasil e com forte carreira internacional. Wilson Sukorski está envolvido com a música desde os seis anos de idade. Graduou-se em composição e regência pela Universidade do Estado de São Paulo (UNESP). Tendo entre seus professores e influências : Michel Phillippot, Conrado Silva, Oscar Bazan, Coriun Aharonian, Walter Smetak, Hans Joaquim Koellreutter, entre outros
Эдита-Изольда (Katya Rekk & Oxana Grigoryeva)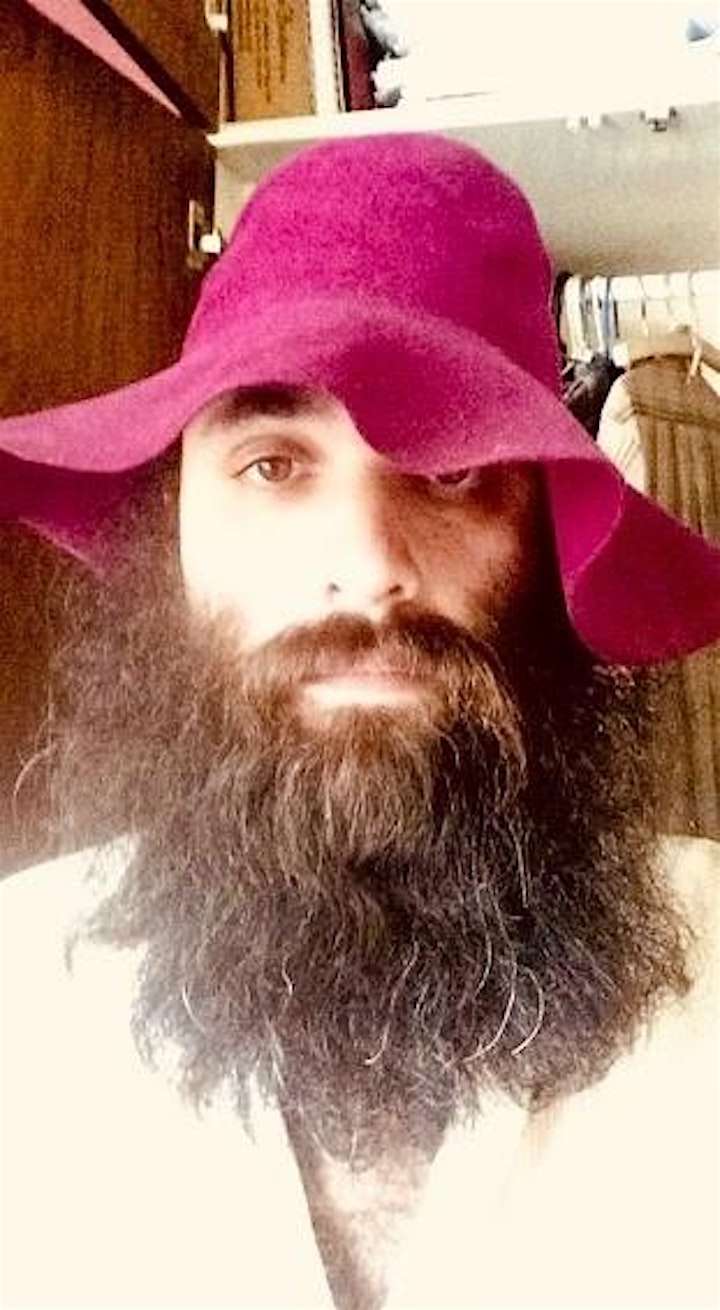 Marcos Campello
Marcos Campello plays freestyle guitar. Besides his trio, chinese cookie poets, he plays/played/will play with Ava rocha, Negro Leo, Okkyung Lee, Paal Nilssen-Love, Bruno Cosentino, Steve Dalachinsky, Fernando Temporão, Lukash, Steve Colpitts, Cadu Tenório, Sam Weinberg, Luis Conde, Tantão, Tetuzi Akiyama, Leonel Kaplan, Steve Dalachinsky, Marco Scarassati, Jean-Pierre Caron, in a variety of countries
Marcos Campello toca guitarra freestyle. Além do trio chinese cookie poets, toca/tocou/tocará com Ava rocha, Negro Leo, Okkyung Lee, Paal Nilssen-Love, Bruno Cosentino, Steve Dalachinsky, Fernando Temporão, Lukash, Steve Colpitts, Cadu Tenório, Sam Weinberg, Luis Conde, Tantão, Tetuzi Akiyama, Leonel Kaplan, Steve Dalachinsky, Marco Scarassati, Jean-Pierre Caron, isso nos mais diversos países
Boo Boo & Alesia White Bird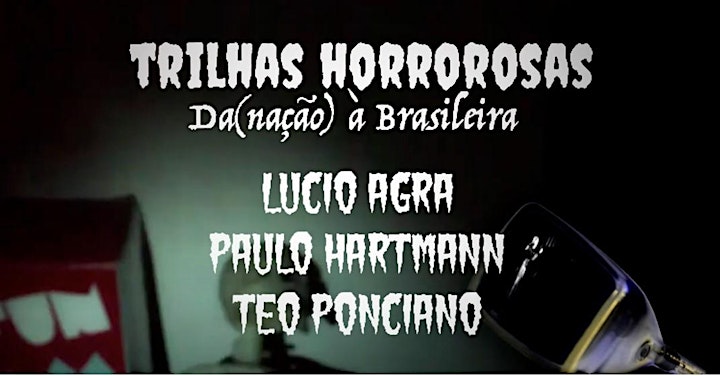 Trilhas Horrorosas
Trilhas Horrorosas is a work initiated by the duo (demo) lesson (Paulo Hartmann + Lucio Agra), whose performance dates back to 2007, the same year of the foundation of Orchestra downloading. After presenting it at several events and festivals, the project, already incorporating multi instrumentalist and inventor Teo Ponciano, became a playlist by Canal Arte ao Vivo (www.youtube.com/c/LucioAgra-arteaovivo), on YouTube, where a series of four programs was made https://www.youtube.com/playlist?list=PLkx5ieU2LRcT1P0E-9aTeLMOLi7whVZ9H always broadcast at midnight. In the presentation of this Festival in Russia, we will take a pearl of Brazilian cultural anthropophagy: in the 1950s, popular musical comedy cinema in Brazil was known by the derogatory name "chanchada". Of the producers of chanchadas, the most famous was, without a doubt, Atlântida Filmes. Its great stars, the comedians Oscarito and Grande Otelo, starred in several comedies, among them "O Homem do Sputnik", directed by Carlos Manga in 1959, when the Satellite that gives name to the comedy was launched into space. In the film, it is imagined that he ends up falling in Brazil and is found by a hillbilly. Fragments of the film, mixed with other references to the Satellite that so impressed Brazilians at the time and today coincides with the name of the Russian vaccine, will be used on these Horror Trails aboard the Sputnik rocket. A number of Sci-Fi tropical trash.
Trilhas Horrorosas é um trabalho iniciado pelo duo (demo)lição (Paulo Hartmann + Lucio Agra), cuja atuação remonta a 2007, mesmo ano de fundação da Orchestra Descarrego. Depois de apresentá-lo em diversos eventos e festivais, o projeto, já incorporando o multi instrumentista e inventor Teo Ponciano, transformou-se em uma playlist do Canal Arte ao Vivo (www.youtube.com/c/LucioAgra-arteaovivo), no YouTube, onde foi feita uma série de quatro programas https://www.youtube.com/playlist?list=PLkx5ieU2LRcT1P0E-9aTeLMOLi7whVZ9H sempre transmitidos à meia-noite. Na apresentação deste Festival na Rússia, levaremos uma pérola da antropofagia cultural brasileira: nos anos 50, o cinema popular de comédia musical no Brasil era conhecido pelo depreciativo nome de "chanchada". Das produtoras de chanchadas, a mais famosa foi, sem dúvida, a Atlântida filmes. Seus grandes astros, os comediantes Oscarito e Grande Otelo, protagonizaram diversas comédias, dentre elas "O homem do Sputnik", dirigido por Carlos Manga em 1959, ocasião em que era lançado ao espaço o Satélite que dá nome à comédia. No filme, imagina-se que ele acaba caindo no Brasil e é achado por um caipira. Fragmentos do filme, misturados com outras referências ao Satélite que tanto impressionou os brasileiros de então e hoje coincide ser o nome da vacina russa, serão usados nessas Trilhas Horrorosas a bordo do foguete do Sputnik. Um número de Sci-Fi trash tropical.
Nameless & Alesia White Bird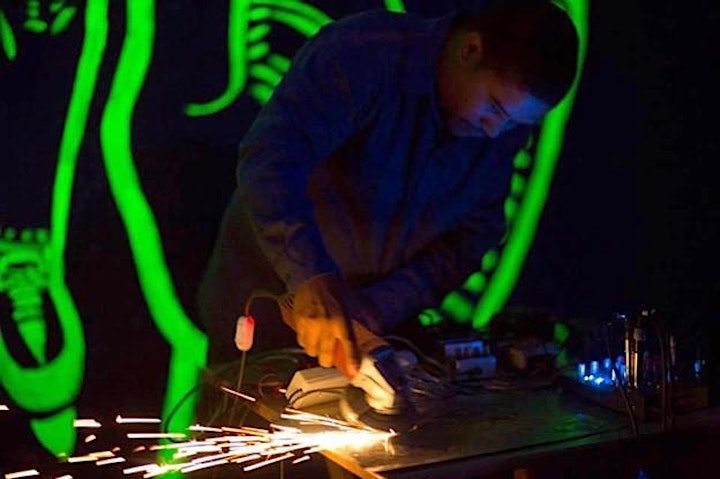 God Pussy
God Pussy intuitively operates the noise of something rough and dry. Activism and sound attack, which are aligned with ultra focused themes to warn about the evils of humanity, addressing the extermination of animals; social inequality; police violence; contempt for the culture of African and indigenous peoples; between others! The focus has never been and never will be music! Noises as will manifest and conscience
God Pussy opera o ruÌdo intuitivamente de algo áspero e seco. Ativismo e ataque sonoro, que se alinham em temas ultra focados para alertar sobre os males da humanidade, abordando o extermínio de animais; desigualdade social; violência policial; desprezo pela cultura dos povos africanos e indÌgenas; entre outros! O foco nunca foi e nunca será música! Ruídos como manifestarÁ"o e consciÊncia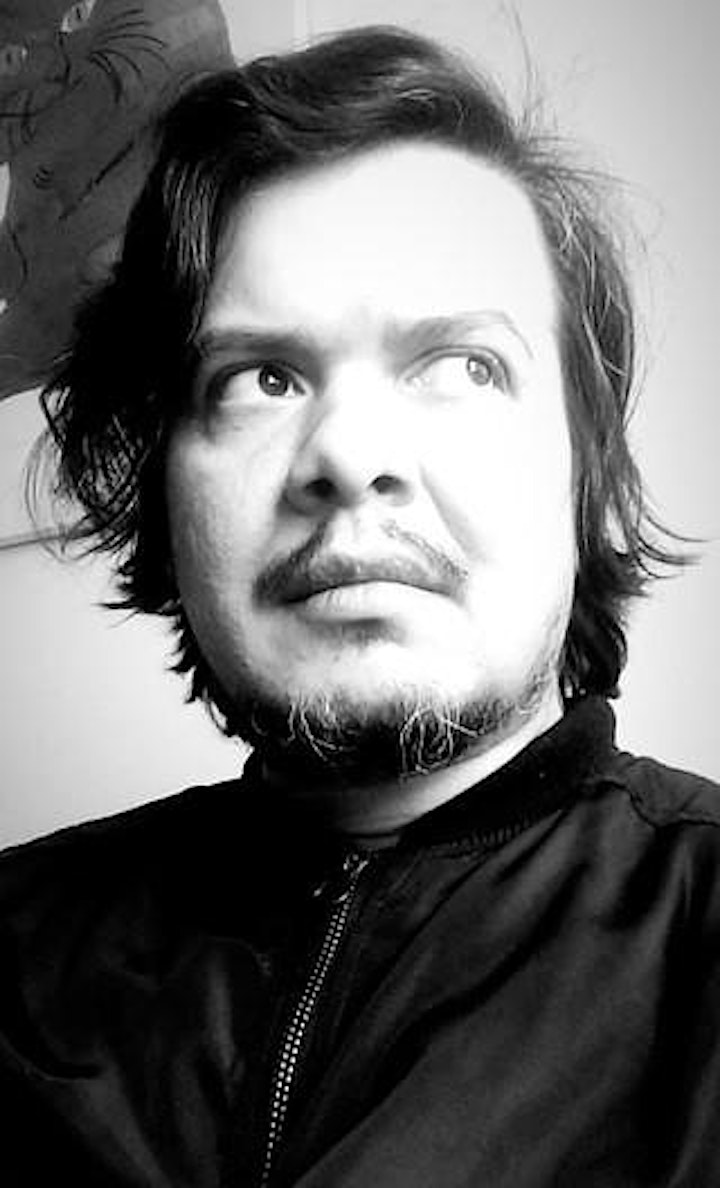 Filipe Giraknob
Filipe Giraknob is an improviser, arranger, composer and sound artist. He has been active in the improvisation and alternative rock scene in Rio de Janeiro and São Paulo since 2002. In Rio de Janeiro he produced pioneering festivals of experimental music (Seres Operando Matéria, Outro Rio, Quintavant) and founded the Aparelho concert hall. In São Paulo, where he has lived since 2011, he has been producing events and festivals such as Megafauna and Dia da Musica. He recently released the first full album of his project Gambutrol and is already finishing a new release scheduled for April
Filipe Giraknob é improvisador, arranjador, compositor e artista sonoro. Tem atuado na cena de improvisação e de rock alternativo do Rio de Janeiro e São Paulo desde 2002. No Rio de Janeiro produziu festivais pioneiros de musica experimental (Seres Operando Matéria, Outro Rio, Quintavant) e fundou a casa de shows Aparelho. Em São Paulo, onde mora desde 2011, vem produzindo o eventos e festivais como Megafauna e Dia da Musica. Recentemente lançou o primeiro full album do seu projeto Gambutrol e já termina um novo lançamento previsto para abril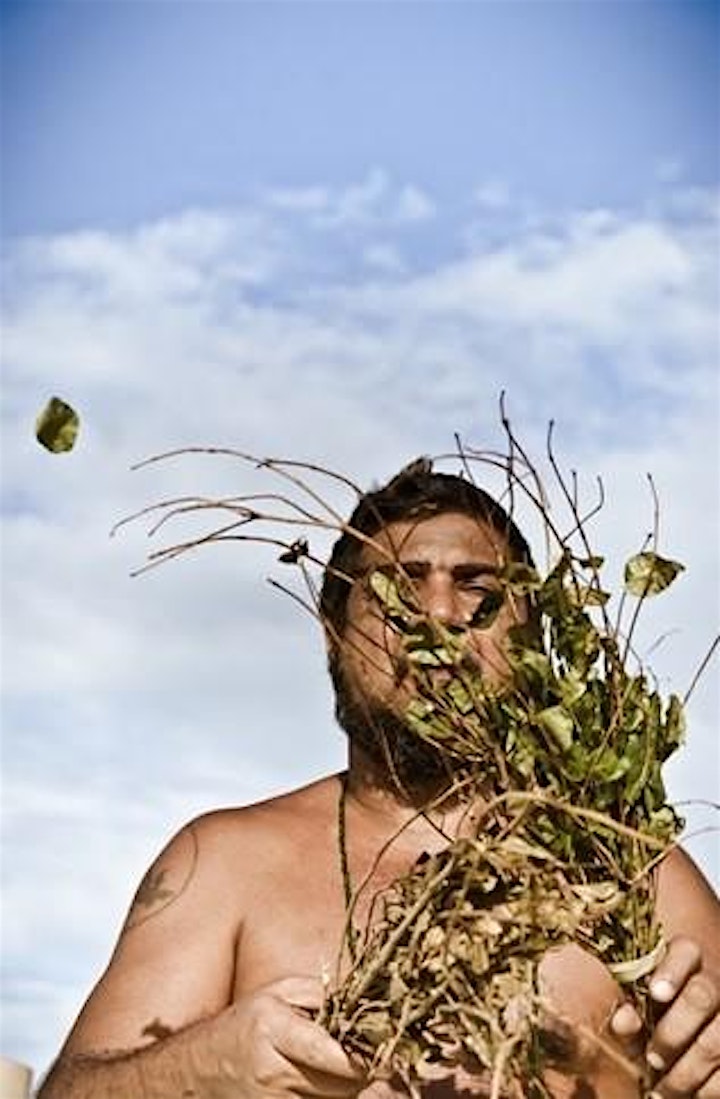 Edbrass Brasil
A Brazilian sound artist and improviser, Edbrass Brasil works in many creative areas, especially as a radio artist, festival organizer, and manager of his record label. In his solo or small group performances, he uses unconventional wind instruments, along with extended techniques, sound collage and texture overlays, exploring the immersive drone climate in a microtonal environment, with references to the Brazilian Afro-diasporic universe
Artista sonoro e improvisador brasileiro, Edbrass Brasil atua em diversas áreas criativas, numa colaboração de 15 anos com diversos coreógrafos e coletivos de dança, diretor artístico, organizador de festivais, artista de rádio e gestor de sua gravadora dependente. Em suas apresentações solo ou em pequenos grupos, utiliza instrumentos de sopro não convencionais, aliados a técnicas estendidas, colagem de sons e sobreposições de texturas, explorando o clima imersivo de drones em ambiente microtonal, integrando as tradições de invenção do Brasil negríndio
Tone Gravity
Anna Mikhailova