Study fair / Talk with 16 Universities in Japan
About this event
English
The Japanese University Consortium has prepared an event for students from all over the world. For one hour, you can chat in English with representatives from 16 different universities in Japa .
Español:
El Japanese University Consortium ha preparado un evento para estudiantes de todo el mundo. Durante una hora, podrá charlar en inglés con representantes de 16 universidades de Japón.
Português PT-BR
A Japanese University Consortium preparou um evento para estudantes de todo o mundo. Por uma hora, você pode conversar em inglês com representantes de 16 universidades no Japão.
Participating Universities / Universidades Participantes / universidades participantes
Ritsumeikan Asia Pacific University
Ritsumeikan University
Nagoya University
international College of Liberal Arts - iCLA
University of Tsukuba
Osaka University
Lakeland University - Japan
International Christian University - ICU
Tohoku University
Okayama University
Kyushu University
Hiroshima University
Temple University
Nagoya University of Commerce & Business NUCB
Kyoto University of Advanced Science KUAS
Doshisha University
Access Link:
https://studyinginjapan.wixsite.com/website/virtualfairjune16
Date and Time: (9:30 June 16th Japan Standard Time)
June 15 (Tuesday) in Latin America
19:30 Peru & Colômbia Time
20:30 Chile Time
21:30 Argentina & Brazil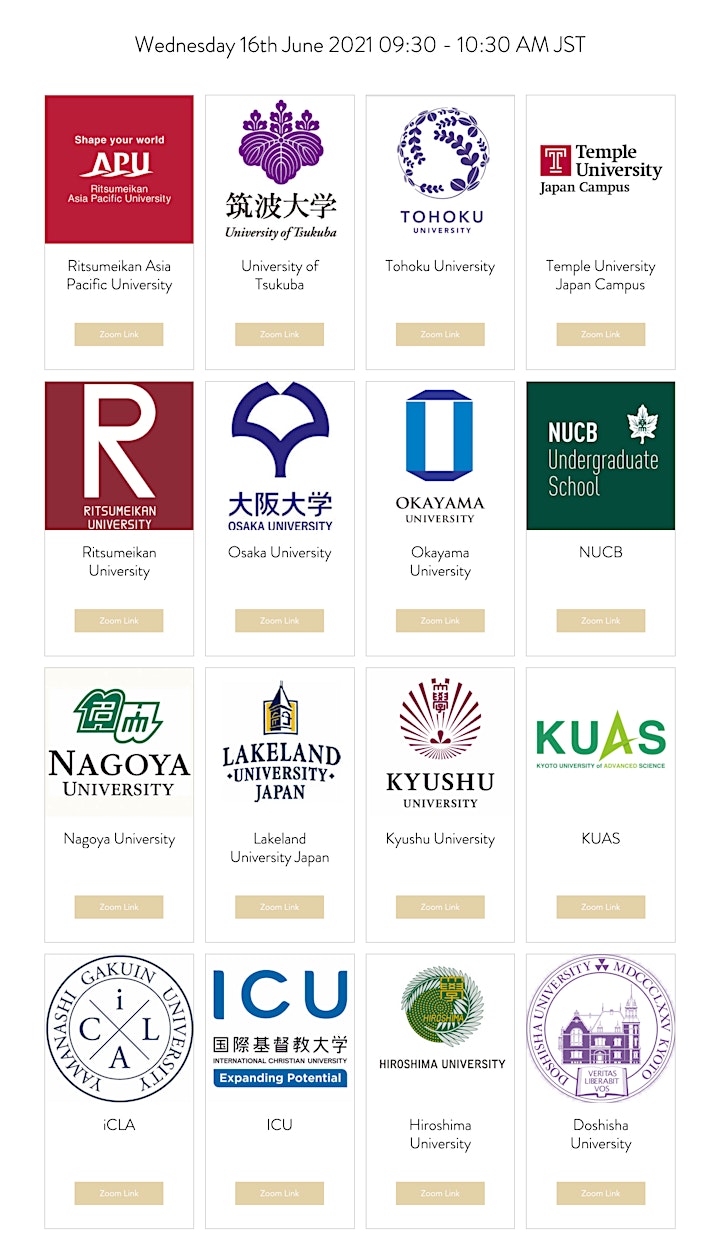 Organizer of Japanese University Consortium Study Fair America Latina