Description
The Latin American Tech Day will be the focal point during the London Tech Week 2019 to show the innovations from one of the most populated and tech addicted regions of the world with 690 million smartphones and social media users. Besides panelists and an exhibition showing innovative solutions coming from LatAm, Latin American scale-ups are going to pitch in front of a team of judges and the audience to compete for an award of £100.000 to expand to London and Europe in the 2019.
PROGRAMME
8:30 ARRIVAL
09:00 - 09:15 Opening
Gustavo Sanchez Reulet Co-Founder of LATAM TECH UK, Russ Shaw founder of Tech London Advocates and Global Tech Advocates
09:20 - 10:05 BREXIT AND THE INNOVATIVE INDUSTRIES FROM ABROAD
Is Brexit going to impact the UK Innovation scene? What will be the major challenges for companies looking to expand to the UK coming from abroad? What is the UK doing to repair the ecosystem and who's going to pay for it?
Coordinator: Astrid Arizpe - Softtek
Panelists: Derek Goodwin, Head of Entrepreneurship - DIT; Russ Shaw - TLA; Stephan Kuester - Tech Nation, Gabriela Lemoine - My Hispano Language Advisory
10:05 - 10:50 INVESTMENTS IN INNOVATIVE INDUSTRIES IN THE UK
The VCs and Angels scene and perspectives after Brexit. Is there any chance for Latin Americans to get investments from UK after Brexit? Which are the major changes that we can foresee to happen in a short and medium terms in the new scene? Latin American companies can take advantage of investments after Brexit?
Coordinator: Scott Campbell - Deloitte
Panelists: Francois Mazoudier - TMRW /Serial Investor, Délber Lage - Latam Investors Club, Israel Pons - Mind the Gap/Angels Nest

11:00 LATAM EDGE AWARD 2019
Pitch of Latin American scale-ups to the audience and a team of British judges
ePHealth
Instacrops
Plataforma Verde
Sensedia
Squid
11:45 WINNER ANNOUNCED
11:45 - 2:00 NETWORKING
EXPO LATAM - INNOVATE 2019
An exhibition of the best technologies from all countries, panels of discussion followed by the final pitch of Latin American scale-ups in the Latam Edge Award 2019. Don't miss the chance to connect with innovators that are already in the UK or are starting to begin their operations. A friendly place to find out companies to represent, to invest and to connect with.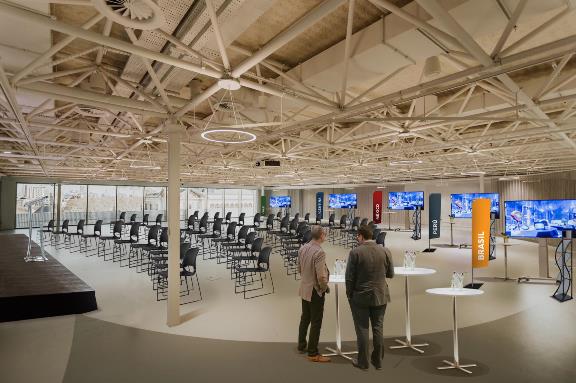 PARALLEL PROGRAM
Business Meetings at Level 4 for innovative companies coming from Latin American that want to connect with European and British companies. For more information about this activity please send an email to contact@latamedge.com


Organiser of LATIN AMERICAN TECH DAY LATAM EDGE AWARD 2019 AND EXPO