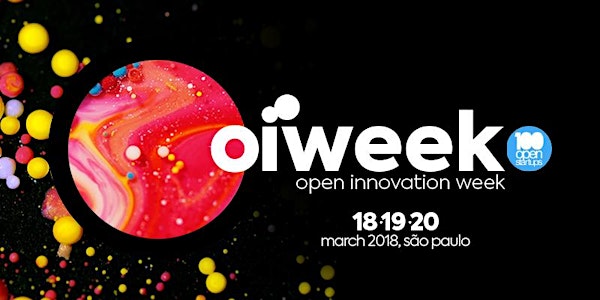 Oiweek X | 10th Open Innovation Week
Location
WTC - Golden Hall
Avenida das Nações Unidas, 12551
Brooklin Paulista
São Paulo, SP 04578903
Brazil
Description
Welcome to Oiweek X
The world's most impactful Open Innovation event
For years Oiweek has been nurturing a community of those who recognize the real challenges of society and want to do something about them. More than 5,000 corporates, 600 investors, 4,000 startups and 1,000 of other organizations have joined the Oiweek community.
Today we are 30,000 doers joining efforts to co-create the future.
Oiweek is all about enabling innovation, and for this special 10th anniversary edition we are working even harder to make innovation happens. Welcome to Oiweek X.
What to expect from Oiweek X
+2,000 executives from LATAM's leading corporations
+300 best-ranked startups
+100 selected technologies from the main universities and research centers of Brazil
+300 investors
+5,000 expected meetings at the Speed-dating Arena

All of this mixed-and-matched in +4,000 sq. meters, with a smart and lean structure especially designed to make the right and effective connections!


Programming
CONNECTION EVENING
Social activity to warm-up connections
18 | Sunday | 7pm to 10pm

OPEN-TALKS
KNOWLEDGE ARENA
19 | Monday | 9am to 9:40am Official Openning
19 | Monday | 9:40am to 5pm Open Talks
20 | Tuesday | 9am to 5pm Open Talks
20 | Tuesday | 5pm to 6pm Oiweek Award

100 OPEN STARTUPS
SPEED-DATING ARENA
19 | Monday | 10am to 4pm
20 | Tuesday | 10am to 4pm

100 OPEN TECHS
SPEED-DATING ARENA
19 | Monday | 10am to 4pm
20 | Tuesday | 10am to 4pm

6th ACADEMIC MEETING ON OPEN INNOVATION
KNOWLEDGE ARENA
19 | Monday | 5:30pm to 7:30pm

Share knowledge, co-create solutions and do business at Oiweek.
Tag us on your social media @Oiweek
Use the hashtags #Oiweek2018 and #InstaPitchOiweek2018
---

FREQUENTLY ASKED QUESTIONS
Why Sao Paulo?
Sao Paulo is the heart of Brazil's economy, an emerging nation with one of the most promising markets for entrepreneurship and innovation.
What does my ticket include?
Access to the activities listed on the description of each ticket, with explanations as follows:
Connection Event: Warming up motors and hearts! Join this special moment with the Oiweek community and start good connections with good people and good music!
Knowledge Arena: Understand what is keeping our keynotes up at night. Plenary sessions and workshops with leading specialists talking about the grand challenges of society and market, and the opportunities for innovation.
Speed-dating Arena: Executives from leading companies will have individual meetings with the matched startups and tech to generate business opportunities.
Matchmaking Tool: Using the 100 Open Startups matchmaking tool, you will be able to connect and meet at Oiweek with interesting startups and techs working on challenges that matter to you. (Available for pre-approved corporate executives and Oiweek X attendees)
Oiweek Award: A special moment to showcase the highlights of the event: TOP Open Startups, TOP Open Techs and TOP Open Corps with the best engagement results at Oiweek X.
6th Academic Meeting on Collaborative Innovation: PhD researchers, professors and students together to discuss current research on corporate entrepreneurship and innovation networks.
Will there be accomodation benefits?
We have partnered with an excellent hotel platform that grants discounts for people attending Oiweek X. Please check Evnts Website.
Will there be transportation/parking lot?
Transportation is up to the attendant. There is available paid parking spots on the site, which are not included on the ticket.
What is the ideal dress code?
We recommend business casual.
Do you offer online certificates?
Yes. You can request your certificates by email, and they will be provided in up to one week after the request.
Can I attend the event for one day only? Does that grant me a discount?
You can if you have time restrictions of some kind, but the event was intended to last from 18-20 and as such the price of the tickets remain the same.
Are there any taxes to be paid on top of the ticket?
No.
Can I cancel my purchase?
Yes, you can ask for a refund up to 15 days before the event date.
Can I transfer my ticket to someone else?
Yes, you can change the ownership of your ticket up to 7 days before the event date.
Can I upgrade my ticket?
Yes, for upgrades please contact us via helpme@oiweek.com
How can I sponsor Oiweek X?
Reach us to further understand our sponsorship packages at helpme@oiweek.com
How can I join the 100 Open Startups community?
If you're a startup: http://startup.openstartups.net
If your a specialist, executive or investor: http://app.openstartups.net or download the 100 Open Startups app on Google Play or on the App Store.
The attendants of Oiweek2018 agree and accept that all footage made during the event could be used by the organizers for promotion and disclosure of the same.