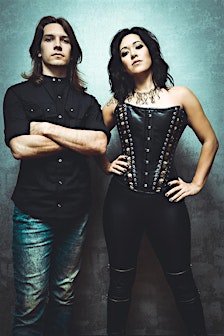 FlowerLeaf
FlowerLeaf is a power/symphonic metal band from Brazil, born in 2017.
Vivs and Marcelo have both enjoyed playing and singing in many different bands through their lives but they have always met the challenge of finding musicians with the objective of making their own music and working hard on one project.
In April 2018, they released their first single "Firesoul" that was very well received by the public. But it was with their second single "Girl in Pearls", released in July 2018 along with a music video that they started to get in the spotlight. 
Now, the band released their first album entitled "Stronger" in November/2018. The album contains 10 tracks, including 'Firesoul' and 'Girl in Pearls' and it also features two great singers, Mylena Monaco and Marina La Torraca.
Lamentamos, não há eventos futuros